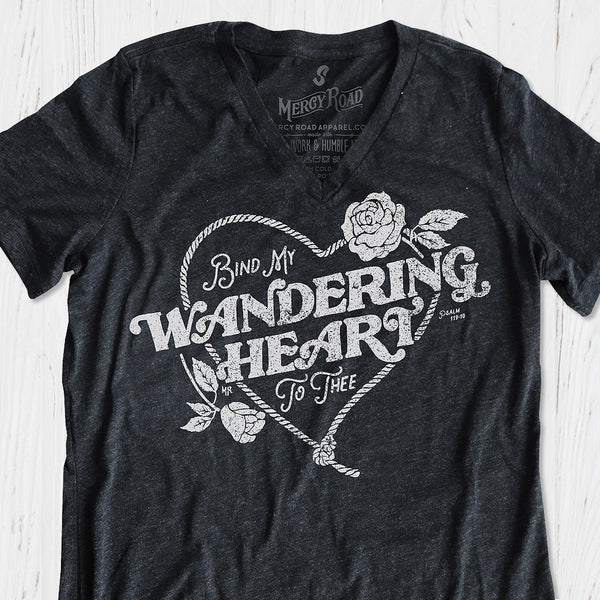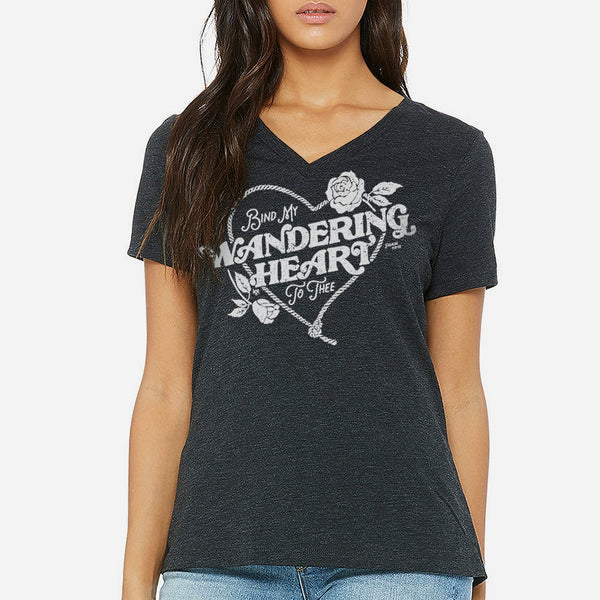 Wandering Heart To Thee Psalm 119, Christian Shirt for Women
This religious tee shirt for women was hand lettered and illustrated in our studio—giving it a lovely vintage vibe. "Bind My Wandering Heart To Thee" is from the Bibile verse Psalm 119:10 and also found in the popular hymn "Come, Thou Fount of Every Blessing." Design features a country western style rope heart and rose. It is the perfect graphic tee for the country girl who is after Gods heart.

~ Professional screen printed with long lasting inks (no vinyl/iron-ons)

~ Stays true to size, minimal to no shrinkage after washing

Bible Verse Inspiration

"With my whole heart have I sought thee: O let me not wander from thy commandments." —Psalm 119:10

Hymn Inspiration

"Oh, to grace how great a debtor daily I'm constrained to be! Let thy goodness, like a fetter, bind my wandering heart to thee: prone to wander, Lord, I feel it, prone to leave the God I love; here's my heart, O take and seal it; seal it for thy courts above." —Come, Thou Fount of Every Blessing (Hymn)

Processing Time

This item is shipped out within 1-2 business days. Apparel may be shipped separately if customer's order includes both christian and western t-shirts.

Fabric Content

Charcoal Black Womens Relaxed V-neck Triblend Tee: 3.8 oz lightweight fabric 50% polyester / 25% preshrunk combed & ringspun cotton/ 25% rayon. Triblends boast the comfort of cotton, durability of polyester, and the luxurious drape of rayon, which was initially created as a substitute for silk. The result? The softest, most luxurious tees in the industry.



Washing Instructions

Wash cold, tumble dry low or hang dry

Returns/Exchanges

We are committed to offering our customers variety, quality printed inks and high comfort fabrics. In order to do that, we are transitioning into printing all tees at a professional print on demand fulfillment company, where tees are made just for you. For that reason we are not able to do returns/exchanges. However, please contact me if you have a problem with your order. Refer to the size charts so you can purchase with confidence.

Mercy Road Apparel® is a registered trademarked. All designs are copyrighted.