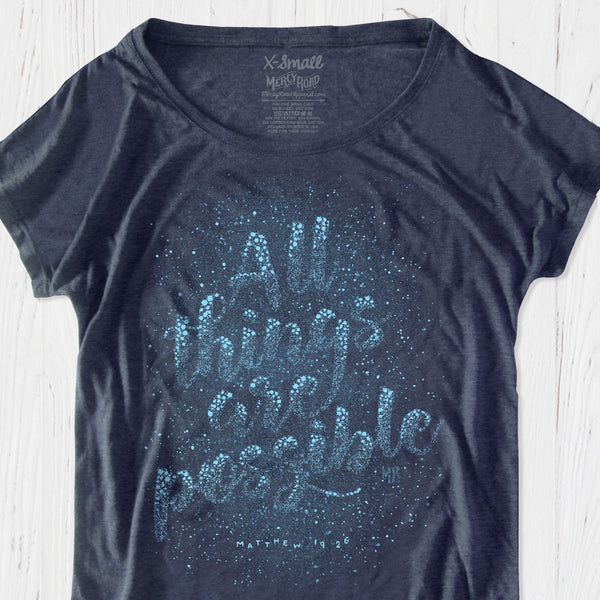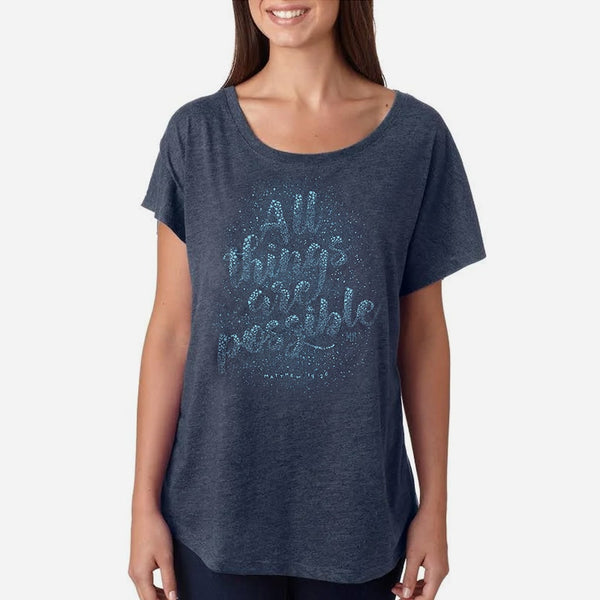 With God All Things Are Possible T Shirt, Matthew 19 Star Shirt, Christian Faith T-Shirt for Women
This constellation religious tee shirt was hand lettered and illustrated in our studio—giving it a lovely vintage vibe. Design features stars in the night sky forming an astronomical message "All Things Are Possible" from the Bible verse Matthew 19:26. How amazing and powerful is our God! This is the perfect graphic tee to build your faith, believe in God's promises or as a gift for astronomy and space lovers. This tee is meant to fit looser for a flowy fit and slight flare in the sleeve. Women love this stylish, easy breezy summer shirt.

~ Professional screen printed with long lasting inks (no vinyl/iron-ons)
~ Stays true to size, minimal to no shrinkage after washing

Bible Verse Inspiration
"Jesus looked at them and said, 'With man this is impossible, but with God all things are possible.'" Matthew 19:26

Processing Time
This item is shipped out within 1-2 business days. Apparel may be shipped separately if customer's order includes both christian and western t-shirts.

Fabric Content
Navy Blue Womens Flowy Dolman Triblend Tee: 4.3 oz lightweight fabric: 50% polyester / 25% preshrunk combed & ringspun cotton/ 25% rayon. Triblends boast the comfort of cotton, durability of polyester, and the luxurious drape of rayon, which was initially created as a substitute for silk. The result? The softest, most luxurious tees in the industry.

Washing Instructions
Wash cold, tumble dry low or hang dry

Returns/Exchanges
We are committed to offering our customers variety, quality printed inks and high comfort fabrics. In order to do that, we are transitioning into printing all tees at a professional print on demand fulfillment company, where tees are made just for you. For that reason we are not able to do returns/exchanges. However, please contact me if you have a problem with your order. Refer to the size charts so you can purchase with confidence.

Mercy Road Apparel® is a registered trademarked. All designs are copyrighted.
---